Fantasy for violin and piano: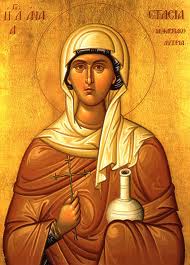 Duration:  ca. 8 minutes 30 seconds
Premiere: 05.13.2011, by Kaleidoscope Duo at the 2011 Art For God's Sake Festival in Troy, MI.
Commissioned by: St. Anastasia Parish, Troy, MI.
Program Notes: I was inspired to write Anastasis reflecting on the story of the not-too-well-known St. Anastasia, whose name comes from this Greek word for "resurrection". In the week before starting this composition, I found everything I could about St. Anastasia—much of which made its way into the music. In this searching, I spent time listening to Serbian chant as well as folk music which can be traced back to where Anastasia was reportedly martyred (in ancient Sirmium, also known as the imperial Roman province of Pannonia).
The piece begins with a violin solo that is like a free and solemn invocation of memories from long ago… all the way back to the 4th century A.D. This introduction carries us back in history to the heroic story of a saint who gave her life for Christ. The music then begins to teem with excitement, going higher and higher (as if ascending to heaven). This arrival at the highest register of the two instruments then gives way to louder gestures in the piano, sounding triumphant and victorious. The piano and violin continue in a dialogue which explores a range of emotions as if to acknowledge that trials produce good.
Then the music enters into a moment that becomes evocative of Serbian Orthodox chant for a brief while, only to enter back into the full rejoicing and celebration from before.
Hear an excerpt of Anastasis below: