Instrumentation: Orchestra
Duration:  ca. 9:00
Premiere: 06.01.2013, by Mexico City Philharmonic Orchestra, Roberto Beltrán-Zavala, cond., Centro Cultural Ollín Yolitzli, Mexico City, MX.
Other notable performances:   06.02.2013, by Mexico City Philharmonic Orchestra, Roberto Beltrán-Zavala, cond.
Program Notes: The inspiration for this work stems from my visit to the Groeningemuseum in Bruges which in 2009 hosted an exhibition of a fascinating historical figure: the last of the Valois Dukes of Burgundy, Charles "the Bold" (1433-1477). In this exhibition I was caught up in the dramatic story of a man consumed with ambition. Amidst an impressive collection of well-preserved medieval artifacts, I marveled at the remnants of this man's ill-fated legacy; opulent courtly culture and ethereal works of art seemed to juxtapose the banality of his thirst for more and more power. His quest to become king could have radically altered the course of history. And although he may not be remembered for his accomplishments, I appreciate that his story can remind us to pursue things that really matter in life.
In this piece I attempted to depict the life of Charles the Bold within a sonic tapestry that suggests images such as riding on horseback, battle calls, sword fighting, and chasing after delusions of grandeur. Towards the end, the piece tries to march on but it is ultimately overcome (as Charles was, in his defeat and death at Nancy) after a brief realization that it was all in vain… Thus the music takes the same course as his ambitious pursuits, leading to nowhere.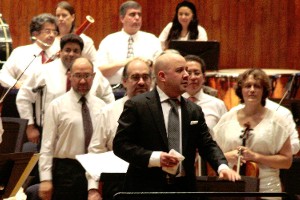 Reviews:  
Secretaría de la Cultura de Ciudad de México, June 3, 2013