SATB a capella choir:
Duration: versions lasting 3 min, 4, min, 5 min, 9 min

Premiere: 09.14.2010 Basilica Choir, Peter Latona, conductor, Basilica of the National Shrine of the Immaculate Conception, Washington, D.C.
Program Notes: He Who Eats My Flesh is a meditation on a passage from John 6 containing words that are so unlike the words of any human being. I don't feel that any music I can compose could possibly add to the inherent poignancy of these words. However, I was so compelled to set this text and I take some consolation in the thought that this musical setting might offer an opportunity for listeners to hear and experience these words that they might not have otherwise encountered…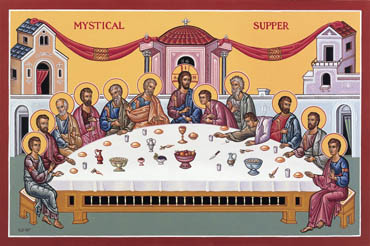 Text (John 6: 54-55, 58)
He who eats my flesh
and drinks my blood
has eternal life,
and I will raise him up
at the last day.
For my flesh is food indeed,
and my blood is drink indeed.
This is the bread which came down from heaven,
not such as the fathers ate and died;
he who eats this bread
will live for ever.
 Hear an excerpt of He Who Eats My Flesh below: