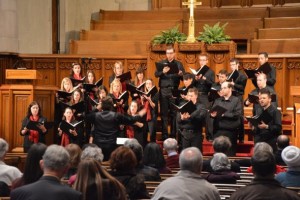 Duration:  ca. 14:00
Premiere: 11.10.2013, Michigan Festival of Sacred Music, Kalamazoo, MI by Cor Cantiamo, Eric A. Johnson, conductor.
Commissioned by: Michigan Festival of Sacred Music and the Briner Lectureship of First Presbyterian Church of Kalamazoo for Eric A. Johnson and Cor Cantiamo,
Program Notes: Hear My Voice is a cry for an end to hatred and violence—a prayer for peace. The text consists of five "invocations" which come from words delivered by John Paul II at the Hiroshima Peace Memorial (Japan) on Feb 25, 1981. Each invocation is preceded and followed by relevant passages from the Psalms, drawn from the Latin Vulgate Bible: a translation stemming back from late 4th century.

Hear excerpts of Hear My Voice below: