Symphony for solo organ in four movements: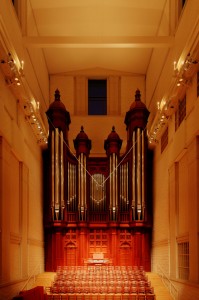 Duration:  ca. 18 min
Premiere: 10.06.2013, Edythe Bates Organ Hall, Rice University Shepherd School of Music, Crista Miller, organ.
Program Notes: Ever since I arrived at the Shepherd School of Music in Fall 2012, I had been contemplating writing for solo organ, undoubtedly spurred on by what many organs in Europe and the USA have impressed upon my musical imagination throughout the years. I continued to find inspiration by watching Shepherd's talented organ students perform for their weekly studio class, and by watching Dr. Crista Miller play weekly at the Co-Cathedral of the Sacred Heart (where I sing). In writing Iter Animæ (whose title translates to "Journey of the Soul") I put that inspiration to work, hoping to at least scratch the surface of the instrument's dauntingly vast possibilities by creating textures, timbres, and musical ideas that begin more tentatively and doubtfully (especially in the first two movements), gradually becoming more resolute and triumphant (in the last two movements).

Listen to excerpts of Iter Animae from the CD A New Spring Time, Crista Miller, organ:
I. Calling Out of the Depths (excerpt)
II. Reaching (excerpt)
III. Revelation (excerpt)
IV. Set Aflame (excerpt)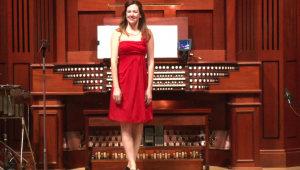 Crista Miller, premiere performance of "Iter Animae".