Spatial work for SSAA + SATB choirs
Commissioned by: The Choirs of Kingwood High School, Kingwood, TX, Jason Watt, director.
Durata: ca. 11 min.
Premiere: 05/19/2016, Combined choirs of Kingwood High School at the Co-Cathedral of the Sacred Heart, Houston, TX
Listen below to clips of the premiere of Numberless Stars in the Co-Cathedral of the Sacred Heart:


Program Notes: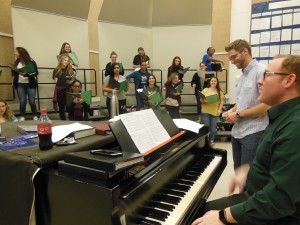 While studying Brazilian Portuguese at the University of Michigan, I became acquainted with the work of Brazilian poet Olavo Bilac (1865-1918). For nearly ten years I had been planning to set some of his poetry to music and with Numberless Stars, I am finally doing so (although in an English translation).
Numberless Stars was conceived as a spatial work for Kingwood High School's nearly 200 singers, to be premiered at the Co-Cathedral of the Sacred Heart in Houston, Texas. The main SATB choir sings on the ground level while an SSAA choir sings from the loft. These choirs combine and alternate to help portray the vast expanse of stars in the sky described in Bilac's poem. I was drawn to the visual aspects depicted in Bilac's poem, as well as the various levels of meaning it suggests.
Text: from Olavo Bilac's As Estrelas – English translation by Daniel Knaggs
When night falls,
Contemplate the endless arch of sky!
See its glowing and beautiful expanse!
See how captivating!
Look as the first star appears
How beyond that point on the horizon …
It shines, flickering and vibrant…
Like a lighthouse on the peak of a mountain.
As the darkness intensifies,
How many stars begin to emerge!
From moment to moment, one surfaces,
And others around it are being born.
And now, many more! …
See!
As night closes in …
Who can count so many stars?
The whole dome is illuminated:
And we become lost in gazing, weary of seeing them all.
New stars, unforeseen, spring out …
Still more break forth,
But beyond the last ones to be glimpsed,
There are millions and millions that cannot be numbered…
Gazing downward, ponder how:
— Although prideful of our greatness,
Faced with this infinite expanse,
How tiny, how fragile is humankind!