For soprano (or mezzo soprano) and piano (two keys available)
Duration: ca. 15 minutes
Dedication: for Anna Cavaliero
Poetry: by Pablo Neruda
Premiere: by Anna Cavaliero, soprano, and Andrew Schneider, piano, 03.10.2013
Other performances: Elizabeth Sharonov, mezzo-soprano, and Zachary Zwahlen, piano, Eastman School of Music, 04.16.2015


Program notes: Having graduated from the University of Michigan with degrees in both Spanish and Music, I have long been anxious to tackle a project like this: one that would synthesize my passion for music and great Hispanic literature. I chose to look to the renowned Chilean poet Pablo Neruda (1904-1973) for my songs, and I was most drawn to poems in his Crepusculario (Book of Twilights) which have a singular beauty and ability to evoke vivid colors and imagery alongside profound contemplation of human existence and experience.
Once I decided on three poems from this collection, I was surprised to find that Crepusculario is generally an overlooked episode in Neruda's oeuvre, mostly on the grounds of being too simplistic and even archaic when compared with his mature style. But these earlier poems of his give insight into the foundations upon which the future Nobel Prize winner would build in the following five decades.
Crepusculario was published in 1923, when Neruda was 19 yea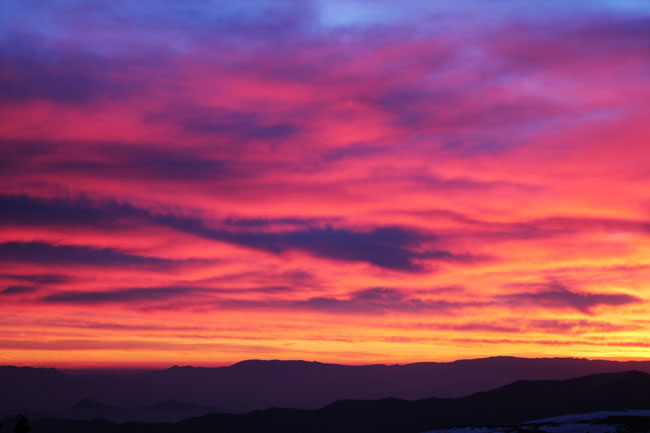 rs old. He wrote these poems while studying law at the Universidad de Chile in Santiago, living in poverty and nearly starving. His student pension was of destitute living conditions and in a bad part of town all against the backdrop of the nitrate crisis and unemployment. However, it was from this dreadful Maruri Street dwelling that Neruda experienced the most incredible sunsets. In the midst of dark times for him, the poet found ample inspiration in the washes of color that swept evening skies…
In my setting of these three poems, I have taken into account much of Neruda's life experience both before and during his time on Maruri street. I believe that his perspective was shaped by many events, perhaps most significantly by the early death of his mother (only two months after his birth) and his father's unwavering disapproval of his foray into writing. The music is occasionally characterized by a certain sobriety and melancholy, but this cynicism is often (indeed, ultimately) pierced by rays of hope (just as in the texts).
Listen to I. Aquí estoy con mi pobre cuerpo  below:
Listen to II. Mariposa de otoño  below:
Listen to III. Dios -¿de dónde sacaste para encender el cielo?  below:
Text translations (by Daniel Knaggs):
I. Here I am, with my poor body facing the twilight
Here I am, with my poor body facing the twilight
that stains with red golds the evening sky:
meanwhile, amidst the fog, the obscure trees
are set free and they go out dancing through the streets.
I do not know why I am here, nor when I came
nor why the red light of the sun fills everything:
it is enough for me to feel, opposite my sad body,
the immensity of a sky of light dyed gold,
the immense redness of a sun that no longer exists,
the immense cadaver of an earth already dead,
and facing the luminous astral bodies that dye the sky,
the immensity of my soul below the immense evening.
II. Autumn butterfly
The butterfly flutters
and is set aflame—with the sun—; sometimes.
It stains, flying and blazing,
now it stops
on a leaf that sways it.
They told me: "Nothing's wrong with you,
You're not sick. You're just pretending."
I didn't say anything either.
And the harvest time passed.
Today a hand of anguish
fills the horizon with Autumn
and even from my soul leaves are falling.
They told me: "Nothing's wrong with you,
You're not sick. You're just pretending."
It was the time of grain harvesting.
The sun, now, convalesces.
Everything in life vanishes, my friends.
It vanishes or perishes.
The hand that leads you vanishes.
It vanishes or perishes.
The rose that you pick vanishes.
Also the lips that kiss you.
Water, shadow, and the cup
all vanish or perish.
The time of grain harvesting passed.
The sun now convalesces.
Its lukewarm tongue now envelopes me.
It also tells me: "You're just pretending."
The butterfly flutters,
flutters again
and disappears.
III. God—from where have you taken this marvelous twilight?
God—from where have you taken this marvelous twilight
to light up the sky?
Through it, I discovered how to fill myself with joy again
and I learned to turn the hard word into something noble.
Among the yellow and green flare-ups
was ignited the chandelier of an unknown sun
that tore open the blue prairies of the West
and emptied into the mountains its springs and rivers.
Give me this magical celebration, God, leave it in my life,
give me your fire to light up the earth,
leave your lamp aflame in my heart
and I will be the oil of its supreme fuel.
And I will go out through the fields in the starry night,
with my arms open and my forehead bare,
singing ingenuous airs with the same words
that at night the fields and the moon say to one another.